Even before the onrush of a global health crisis, every aspect of the higher education ecosystem was being re-examined. 

Over the past year, the pandemic has hastened changes that might otherwise have been

decades in the making.

 
Many schools are already innovating in important ways with positive developments such as active-learning pedagogies and hybrid research and teaching models becoming standard practice across the educational sphere. In the wake of the pandemic, we face familiar places complicated by new problems on top of the existing ones. Despite the uncertainty of our current moment, the time is now to plan and implement the innovations and renovations that will ensure a bright future for American higher education.
We must consider the ways in which our campus environments can be transformed to become more:
Experiential, Collaborative, Flexible, Balanced, Healthy and Resilient.
Buildings that are

Experiential
What exactly constitutes "learning" today? There is a growing consensus among educators, social scientists, and economists that today's students face a future that will require them to be capable of constant learning, retraining, and new skill acquisition. 
Experiential Learning Factors
• Hands-On (maker space, etc.)
• Design Thinking
• Incubators and Innovation Hubs
• Experimental Classrooms
• Flexibility
In response, academic programs have been moving away from the traditional lecture format and experimenting with alternate learning modes that incorporate other forms of engagement both in and out of the classroom.
The result is a much more diverse landscape of learning spaces, and a much greater emphasis on experiential, hands-on learning. While the "makerspace" has become a near-ubiquitous feature across a surprising array of disciplines, other classroom types such as design thinking studios, robotics labs, sound stages or media suites enable other experiences.
Even the classic classroom has gotten a makeover as a tech-enabled team-based workspace. And this hands-on mindset inevitably spills out into and reshapes corridors and public spaces.
We work with schools to create innovative learning spaces of all stripes. Unable to predict the future, we often incorporate "experimental classrooms" designed to enable schools to test new learning technologies prior to adopting them.
The vibrant, light-filled atrium is lined with an array of space types, creating a sense of community and identity for the Cockrell School of Engineering, Engineering Education and Research Center at The University of Texas at Austin.
Buildings that are

Collaborative
Throughout history, the most impactful innovations have not been created in solitude, but through collaboration: Neil Armstrong took his first steps on the moon propelled by the ingenuity of thousands of people.
Collaborative Learning Factors
• Interdisciplinary programs
• In-between Spaces
• Attractors
• Showcases
• Virtual Communities
Intellectual communities working closely together are fundamental drivers of knowledge and social progress, and the beating heart of every school. For campuses to ably support these communities, they need spaces that prioritize teamwork and purposeful engagement. An effective ecosystem of collaborative space is varied, versatile, and well-distributed throughout a campus. There is no universal design solution for this kind of space, because collaborations come in many forms, teams come in many sizes, and needs change from day to day.
Because teamwork is about people, our approach to designing collaboration space is to deeply understand the needs of the overlapping communities that will use our buildings. Balancing the many parameters that must be considered — location, size, visibility, access, functionality, comfort, institutional culture — we draw from our broad experience to create collaborative environments that enhance the intellectual communities they serve.
A stage for spontaneous collaboration, purposeful interaction, sharing ideas and networking, Robert Rowling Hall defines a powerful new identity for the McCombs School.
Buildings that are

Flexible
The rapid evolution of pedagogy and technology puts constant pressure on our built environment. Never before have our buildings needed to be as flexible as they do today. There is, however, no one-size-fits all solution, because flexibility comes in many forms: Aging building stock needs to be adapted to new purposes.
 Yesterday's technology needs to be switched out for tomorrow's. A lab modifies research priorities. A classroom needs a different configuration in the afternoon than it did in the morning. Or, as we know all too well, spaces need to be adjusted in the midst of a pandemic.
Flexible Building Factors
• Use wide column spacing
• Keep floors flat
• …and keep them tall
• Add windows everywhere possible
• Use simple, versatile surfaces
• Variety of classroom types
• …and a variety of collaboration spaces
• Use convertible spaces strategically (and sparingly)
• Include spaces to test new things
• Encourage sharing
At Arizona State University, the Beus Center for Law and Society is designed as a permeable environment that blurs inside and outside environments. Movable tiered seating allows the Great Hall to be used as lobby, lecture hall and general gathering space.
To make our buildings future-friendly, it is important to consider different time scales and the variety of ways they need to adapt. Our many flexible teaching and research environments are designed to adapt to changing needs over the course of a day, a year, or a lifetime. And while there is never only one way to create flexible space, we have developed general guidelines that can be applied to many different building types and campuses.
At Purdue University, Flex Lab Facility, a super-flexible lab layout defined by re-combinable bench space and support labs, high-bay research space, low vibration basement labs for optics, and a complementary landscape of hoteling offices, open work areas, hot desk space and "work cafes" addresses the constant evolution of the engineering disciplines.
Buildings that are

Balanced
The nature of work, and the space required to support it, is rapidly changing. While the business world has been adapting by experimenting with the design of its workspaces for years, colleges and universities have been more slow to evolve. This must change, as institutions will increasingly be called on to meet the more complex needs of today's faculty, staff, and student workforces. 
Balanced Building Factors
• Private office standards
• Collaborative space
• Flexibility
• Comfort and amenities
• Hotel and hot desk models
• Technology
The pandemic, despite its many challenges, provided a valuable demonstration of untapped workspace possibilities. The home office became more prevalent, as did a focus on better balance between work and home life.
Helping our communities create better work/life balance is one of the imperatives of workplace design today, as a well-balanced work environment will lead to happier workers, more collaboration, better recruiting and retention, and richer working relationships.
Offices and administrative suites are some of the most prevalent and costly spaces on any campus, and many institutions have been searching for new workplace solutions that are more efficient, adaptable, and productive. We are actively exploring innovations in the workplace across the full spectrum of our projects.
Buildings that are

Healthy
Over the last decade, schools have increasingly focused on the health and wellbeing of their communities, with particular attention paid to the mental health of students.
Healthy Building Factors
• Daylight
• Accessibility
• Comfort
• Connection to outdoors
• Amenities
• Diversity, equity and inclusion
Today, we recognize that successful outcomes such as improved classroom performance or higher graduation rates are closely related to health and wellness initiatives. An increase in counseling and advising services, coupled with other programs focused on both body and mind, have yielded new education space types such as the wellness center, made up of a variety of health-focused components such as community rooms, yoga studios, and counseling suites. An emphasis on healthy and comfortable building environments is driving design solutions worldwide.
The pandemic has made wellness issues ever more urgent. To keep our communities safe, we need facilities that redefine the very notion of what constitutes a "healthy" space. As the global health crisis is constantly evolving, flexibility will be key. The "healthy" buildings of the future will have better tools to address many of the recently exposed vulnerabilities of campus life.
Elevated above the ground floor, the shaded garden terrace is the heart of Stanford Law School's William H. Neukom Building.
Buildings that are

Resilient
The integration of project-specific sustainability objectives is a fundamental component of the value-proposition in our work, where our designs perform as the infrastructure for learning, engagement, and social cohesion. And we align our services to be symbiotically connected to the core aspirations and values of our clients.
Resilience Factors
• Energy performance (EUI)
• Resource management
• Ecosystems
• Adaptability
• Durability
• Well-being
• Economy
• Equitability
From chronic issues such as deferred maintenance to acute situations like extreme weather events, pandemics, or other crises, schools experience many challenges over the years. The most successful institutions are able to meet these challenges because their campuses are resilient.
However, resilience does not happen by accident. It takes strategic thinking, careful planning, and investment of both time and money.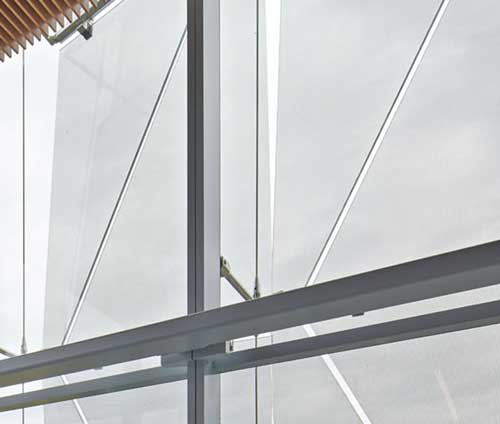 There are many dimensions to building and maintaining a resilient campus — energy performance, resource management, healthy environments, adaptability, diversity & inclusion, and economy & value, to name just a few.
Our design approach, even on the smallest of projects, is to consider your campus holistically to ensure that decisions we make together help to secure a healthy future for your school.
Our design approach, even on the smallest of projects, is to consider your campus holistically to ensure that decisions we make together help to secure a healthy future for your school.
Sustainability section for the University of Oregon, Knight Campus for Accelerating Scientific Impact.
Scroll over thumbnails to highlight the sustainability features.
The changes happening today will influence the shape of colleges and universities for years to come.
Ennead Engage allows us the opportunity to showcase areas of specialization and inquiry.
Visit our primary site at Ennead.com to learn more abut our diverse expertise.
New York 
1 World Trade Center 40th Floor
New York, NY 10007
Shanghai
Suite 5205, Block 5, Bridge 8,
No. 10 Jian Guo Zhong Road,
Huangpu District,
Shanghai 200025, PRC